Finally, Fast Objective Functional Movement Assessment!
(SquatScreen is an assessment module within the PostureScreen platform)
Functional Assessments
Perform fast and objective overhead squat functional screens for lateral, AP and PA views.  Additionally, perform Pushup-Plank analysis. Many more screens coming soon!
Comparative Reports
Create stunning comparative movement assessments reports as well as side by side videos in mere seconds!
Remote Virtual Client Screenings
Use the client friendly application RemoteScreen to allow virtual assessments of existing and potential new clients and patients!  Fast and easy out of office remote  virtual assessments are finaly a reality!
Evidence Based Exercises
SquatScreen users  with a WebExercises.com account can now access their exercise content and prescribe anywhere and anytime all through the easy to use exercise menu! Unique with the SquatScreen Module is the ability to link the assessment automatically to "Auto-Suggested" corrective exercises for the professional to choose from for their client which is specific to their analysis.
SyncScreen Cloud Sync & Backup
Use the SyncScreen HIPAA compliant cloud backup and syncing service to not only backup your database, but also give access to your all your iOS devices a common database..
LeanScreen Upgradable
In-App upgrade to LeanScreen 2D and 3D Body Composition Module to allow accurate photographic anthropometric body composition analysis, Waist Hip Ratio calculation, BMI, BMR, Lean Body Mass.
PostureScreen Upgradable.
In-App upgrade to PostureScreen and experience mobile objective posture analysis of your clients. Including 2 view, 4 view, QuickScreening assessments.
Report Branding Customization
Use the easy in-app upgrade module for editing your reports to add personalized customization and branding to match your own business.
Powerful, Professional, and Versatile.

Experience Fast and Objective Movement Screenings on your Apple devices!
Introducing SquatScreen, the ultimate tool for fitness professionals, coaches, and therapists. This cutting-edge app, available on your iPhone, iPad, or iPod Touch, is both HIPAA compliant and a module within the acclaimed PostureScreen application.
SquatScreen empowers you to efficiently and accurately evaluate your clients' functional movements. With a range of dedicated assessments like the (AP) Overhead Squat, Posterior View (PA) Overhead Squat, Lateral View Overhead Squat, and the Pushup-Plank Screen, you can gather valuable insights in no time.
By utilizing SquatScreen, you'll produce precise and quantifiable measurements while maintaining a consistent assessment approach. The app effortlessly plots essential anatomical landmarks, predicts overactive and underactive muscles, and identifies potential injuries contributing to dysfunctions.
Gone are the days of labor-intensive documentation. SquatScreen generates comprehensive PDF reports and annotated jpg images, seamlessly ready for upload to your EHR or preferred software systems.
What's more, SquatScreen seamlessly integrates with WebExercises.com. If you have a WebExercises.com account, the app automatically suggests a curated selection of exercise correctives tailored to your clients' needs.
Regardless if you download and purchase SquatScreen base app on its own, it is the same application as PostureScreen and includes all the same modules.  LeanScreen is an assessment module within PostureScreen.  Pricing is only $59.99 for your first 30 days, and then $19.99USD/month or $199USD/year for Unlimited Use.   Experience the revolution in movement assessment with SquatScreen today!
**Please note that note that this module is not available on the Android platform.  Minimum Requirements : iOS 16 / iPadOS 16 and later  Augmented Reality Assisted  Assessments are ONLY available on iOS Devices and requires an A12/A12x/A13/A14/M1 and later Chip CPU based iPhone/iPad with an Unlimited Assessment Subscription. To Learn More, Click Here. 
PostureCo, Inc. software is protected under US Patent No. 8,721,567, US Patent No. 9,788,759, US Patent No. 9,801,550, US Patent No. 11,017,547, and US Patent No. 11,610,305 with Patents Pending Internationally
Document Objective Assessments in Seconds!
Powerful Assessment – Anywhere, Anytime
AP Overhead SquatScreen
AP Overhead Squat Assessment with on-screen annotation and markup
PA Overhead SquatScreen
PA Overhead Squat Assessment with on-screen annotation and markup
Lateral Overhead SquatScreen
Lateral Overhead Squat Assessment with on-screen annotation and markup
Single Leg SquatScreen
Single Leg Squat Assessment with on-screen annotation and markup
Push-up / Plank Screen
Push-up / Plank Assessment with on-screen annotation and markup
Identify Dysfuntional Muscle Groups
Aid the professional in predicting the over-active and under-active muscle groups to target for exercise corrective prescriptions.
Auto-Suggested Exercise Correctives
Users of WebExercises can now have auto-suggested exercise corrective content predicted for their review for exercise prescriptions.  Choose from any of our unique evidence based exercise protocols unique to your client's findings.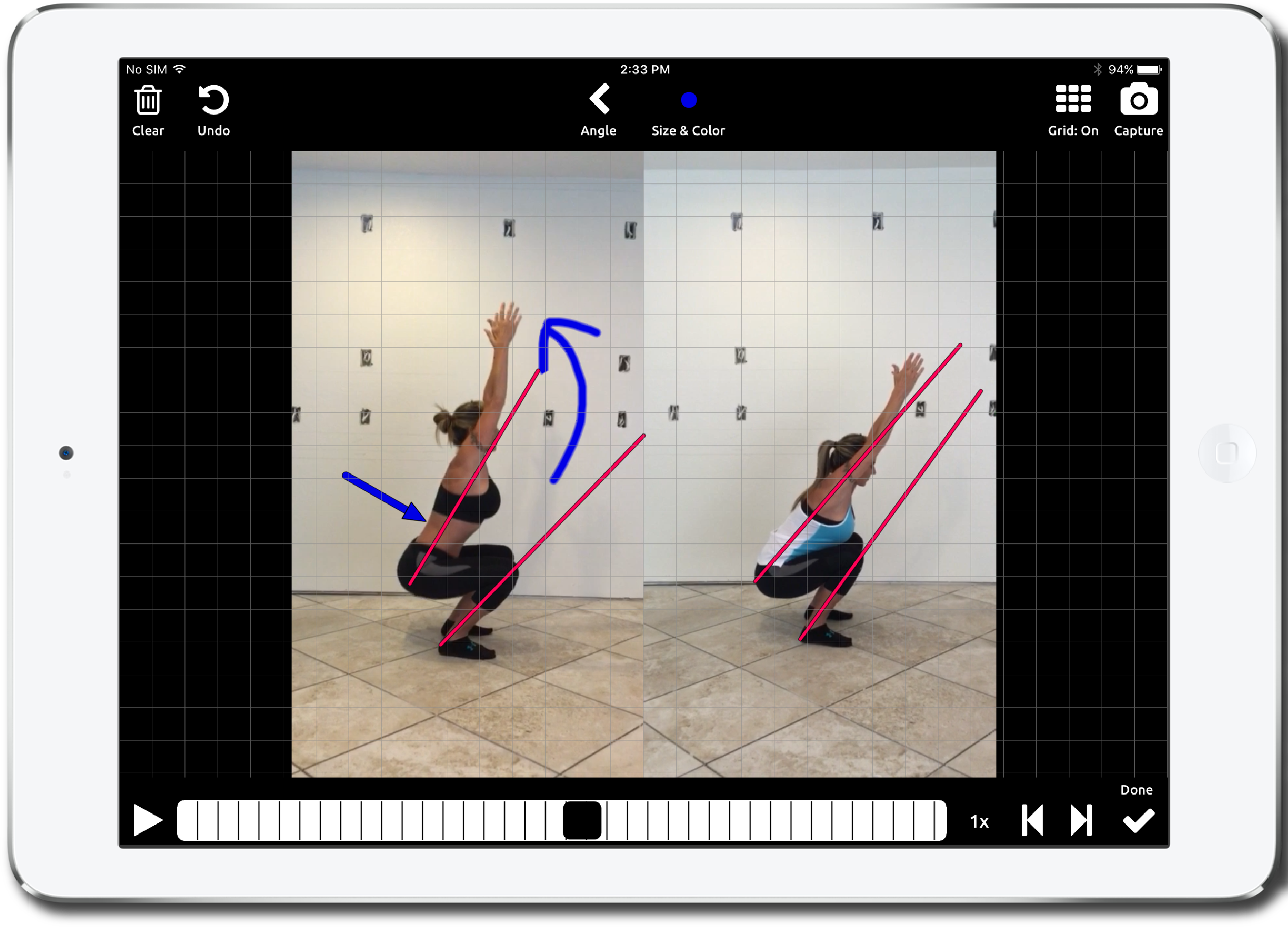 Side By Side Movement Comparison Video
Select from any prior movement assessment to do side by side comparisions videos  in order educate the client on their movement patterns. Using annotation overlay tools you can snapshot any images to add to the normal comparision reports for the client as well as export the rendered side by side video so you can send to the client.
Movement Comparision Reports
Detailed side by side comparision reports for any movement screen are available to better document objectively the client's progress with their corrective strategies.  These reports can easily be sent to the client via email or uploaded to electronic health records for better documentation..
Now with Augmented Reality Assistance!
Includes LeanScreen and PostureScreen!
PostureCo, Inc. software is protected under US Patent No. 8,721,567, US Patent No. 9,788,759, US Patent No. 9,801,550, and US Patent No. 11,017,547 with other Patents Pending Internationally