2D Photographic and 3D Scanning Body Composition Analysis on iOS!
(LeanScreen is an assessment module within the PostureScreen platform)
Photographic Body Composition
Accurately measure Body Composition using Patented photographic anthropometry! Measure Percent Body Fat from Photos!
3D Body Scanning
Accurately measure body composition using true 3D analysis using the Structure Sensor.  Measure true circumfernetial measurements! Now you can see the true shape of your clients!
Waist Hip Ratio
Calculate Waist Hip Ratio quickly using either our 2D photographic methods or 3D methods! Also Calculate BMI, BMR, Lean Body Mass.
Comparison Reports
Easily calculate comparisions for progress updates for your clients as well as display LeanScreen Trend Analysis showing their changes over time!
Remote Virtual Client Screenings
Use the client friendly application RemoteScreen to allow virtual assessments of existing and potential new clients and patients!  Fast and easy out of office remote  virtual assessments are finaly a reality!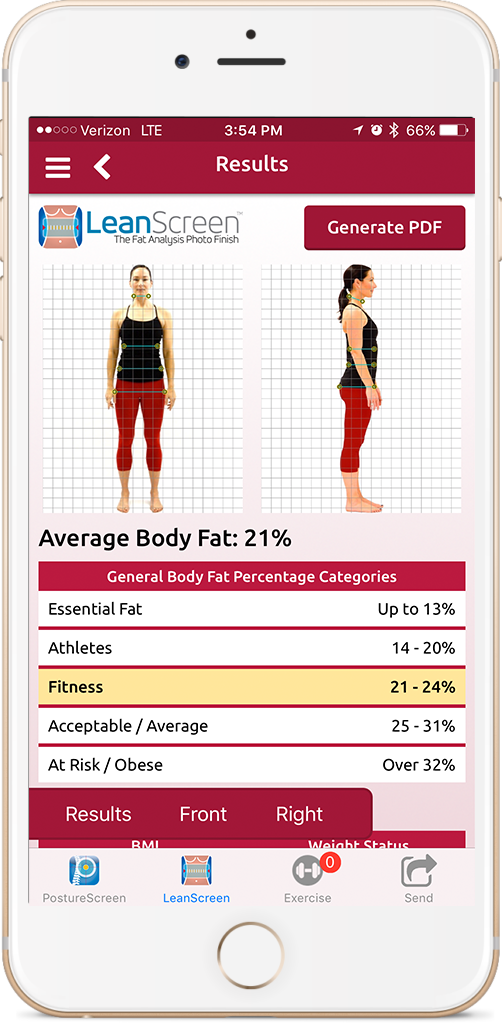 SyncScreen Cloud Sync & Backup
Use the SyncScreen HIPAA compliant cloud backup and syncing service to not only backup your database, but also give access to your all your iOS devices a common database..
PostureScreen Upgradable
In-App upgrade to PostureScreen and SitScreen  Body Composition Module to allow accurate photographic posture analysis.
SquatScreen Upgradable.
In-App upgrade to SquatScreen and experience mobile functional movement assessments of your clients. Including Lateral, AP, PA Overhead Squat, Pushup-Plank, and free form video for annotation and goniometric overlay analysis
Report Branding Customization
Use the easy in-app upgrade module for editing your reports to add personalized customization and branding to match your own business.
Prescribe Evidence Based Exercises
LeanScreen  users  with a WebExercises.com account can now access their exercise content and prescribe anywhere and anytime all through the easy to use exercise menu!
True 3D Mobile Scanning
Using LeanScreen with the Structure Sensor on supported iPads, allows for true 3D full body scanning.  Imagine having ability to see a true replica of your client in real 3D, and visualize from any perspective.  Easily export 3D models of clients to supported software.
Powerful, Professional, and Versatile.

Introducing LeanScreen, the groundbreaking assessment that revolutionizes body fat estimation and waist-to-hip ratio calculations! Say goodbye to time-consuming measurements and unreliable calipers. With LeanScreen, fitness professionals, gym franchises, nutritionists, dietitians, and healthcare experts like physical therapists and chiropractors can accurately assess their clients' body composition for wellness and weight loss programs.
Using our cutting-edge anthropometric technologies, LeanScreen enables you to measure body dimensions in mere seconds, all from a simple photograph. For those seeking advanced capabilities, the app seamlessly integrates with the Structure Sensor, allowing for true mobile 3D assessments.
Key Features:
Precise calculation of percentage body fat using the Department of Defense Anthropometric Method.

Accurate determination of waist-to-hip ratio (WHR).

Calculation of basal metabolic rate (BMR).

Convenient assessment of body mass index (BMI).

Comprehensive measurement of lean body mass (LBM).

Detailed analysis of fat body mass (FBM).

Effortlessly generate professional PDF reports.

Securely email password-protected (HIPAA compliant) PDF reports to clients.
Regardless if you download and purchase LeanScreen base app on its own, it is the same application as PostureScreen and includes all the same modules.  LeanScreen is an assessment module within PostureScreen.  Pricing is only $59.99 for your first 30 days, and then $19.99USD/month or $199USD/year for Unlimited Use.
Minimum Requirements: iOS16 and later for Apple devices
*PostureCo, Inc. software is protected under US Patent No. 8,721,567, US Patent No. 9,788,759, US Patent No. 9,801,550, US Patent No. 11,017,547, and US Patent No. 11,610,305 with Patents Pending Internationally
Based on Science and Research
LeanScreen 2D and 3D agrees with conventional measurement methods just as well as the conventional standards do to each other.

LeanScreen 2D photographic method demonstrated high agreement and can be used to benchmark client progress to BIA or Skinfold methods for Body Fat Percentage.

Using the LeanScreen 3D photonic scanning method utilizing the Structure Sensor, demonstrated Indirect evidence that LeanScreen 3D may agree with DXA better than BIA. 

The Waist-to-hip ratio, a sensitive marker of obesity and metabolic disease, LeanScreen 2D, and 3D were indistinguishable from direct tape measurement in approximately 85% of the population tested.

LeanScreen 3D may have high agreement with dual-energy x-ray absorptiometry for Body Fat Percentage.
Powerful Assessment – Anywhere, Anytime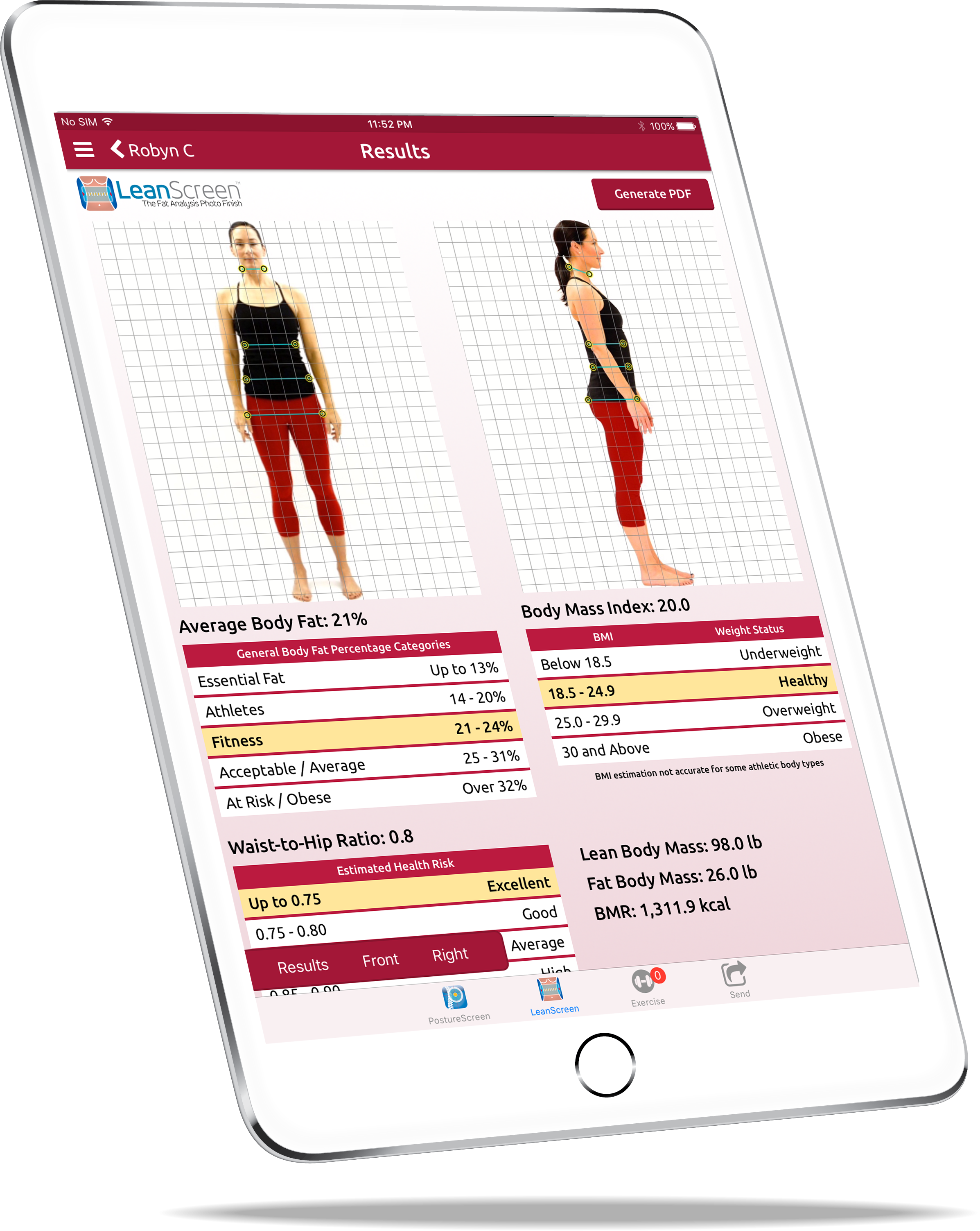 Photographic Anthropometric Body Composition
Using advanced patent pending photographic anthropometric technology, LeanScreen measures anatomical regions, and mathematically estimates circumferential dimensions leading to accurate body composition findings. Recommend Minimal clothing or tight fitting clothing for increased accuracy. 
3D Scanning Body Composition Analysis
Using the patent pending 3D scanning technology, and the 3D Structure Sensor, which is an advanced optical camera attachment to the iPad, the LeanScreen now can accurately model the body shape and measure anatomical dimensions leading to not only body fat percentages, but also the inches lost or gained at follow up re-assessments.  Recommend Minimal clothing increased accuracy. 
Waist Hip Ratio
Using both the 2D photographic anthropometric method as well as the 3D true body scanning method, LeanScreen will predict Waist Hip Ratio which is can be used for an indicator of health and risk for certain diseases according to the World Health Organization.
Lean Body Mass
LeanScreen can calculate estimates of both Lean Body Mass as well as Fat Body Mass
Basal Metabolic Rate and BMI
LeanScreen can calculate additional measurement estimations of Basal Metabolic Rate (BMR) as well as Body Mass Index (BMI)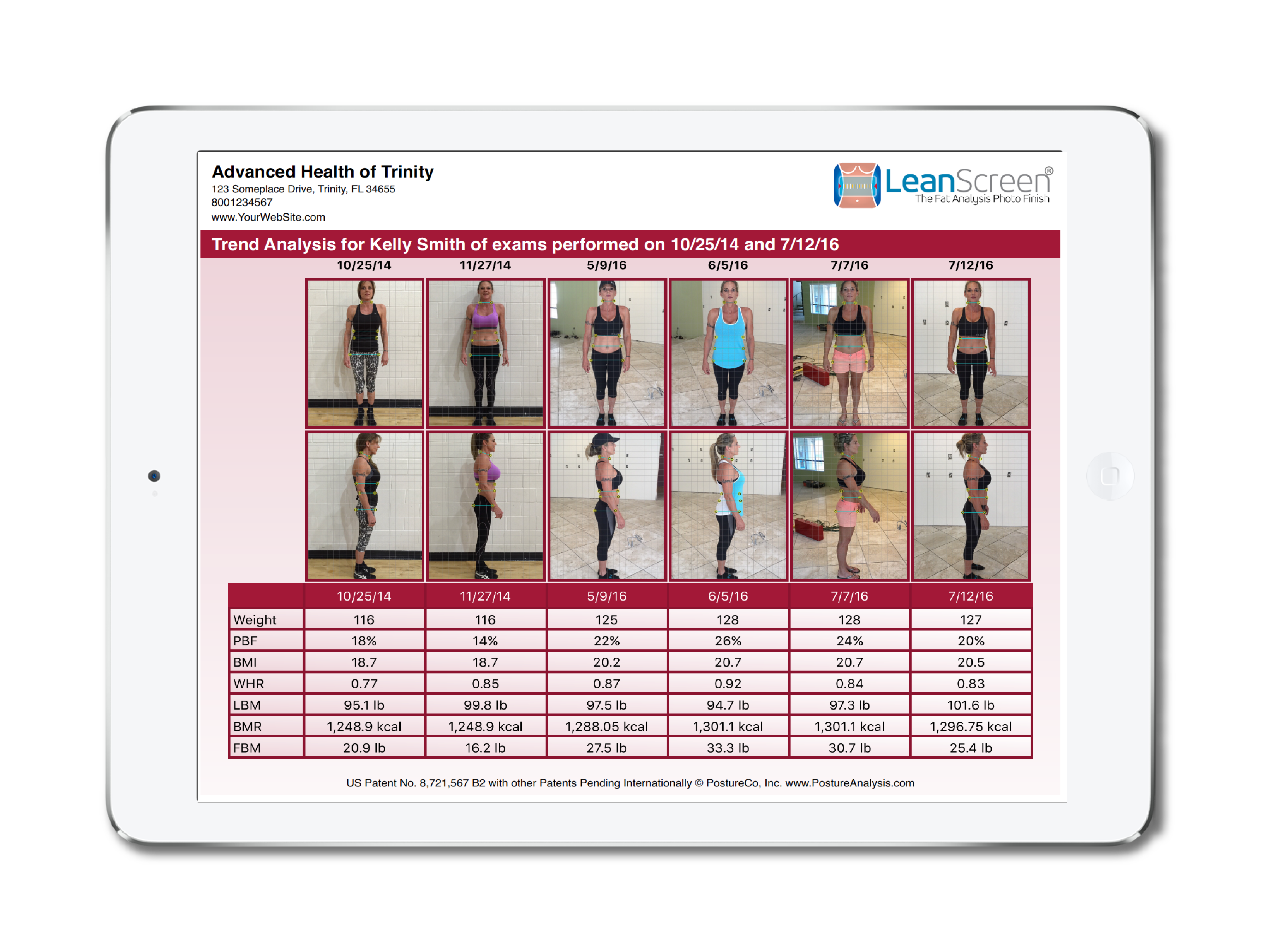 Body Composition Comparisons
Select from any prior LeanScreen assessment to do side by side comparisions in order to track changes in your client's body compostion, Waist Hip Ratio, BMI, BMR, and Lean Body Mass.
LeanScreen Trend Analysis
The LeanScreen Trend Analysis is a great way to track a client's long term LeanScreen assessments to guage trends and changes over time..
PostureScreen and SquatScreen included!
PostureCo, Inc. software is protected under US Patent No. 8,721,567, US Patent No. 9,788,759, US Patent No. 9,801,550, and US Patent No. 11,017,547 with other Patents Pending Internationally