Mobile Assessments
Anywhere, Anytime!
Grow your business with accurate and reliable Posture, Movement, and Body Composition Assessments.
Learn More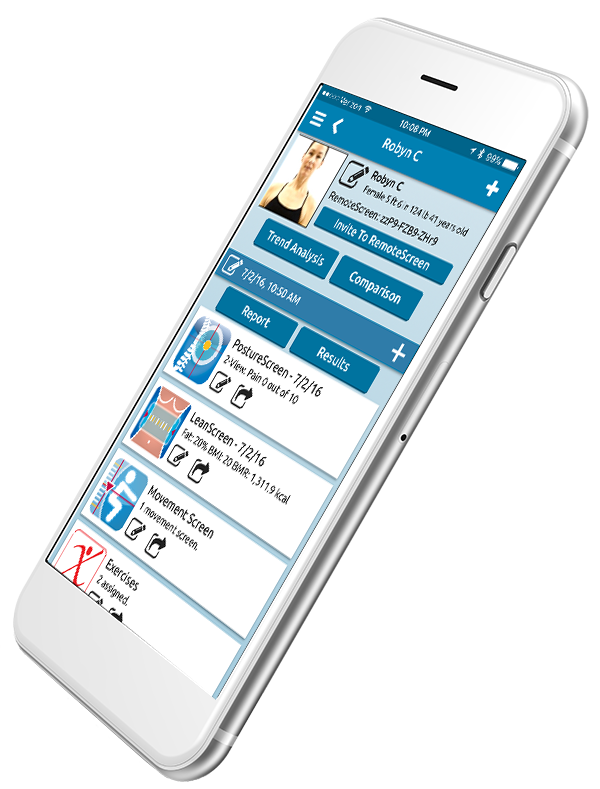 Powerful, Professional, and Versatile.
Posture Analysis
4 view, 2 view, Quick Screen, and seated analyses anywhere and always in palm of your hand with PostureScreen!
Body Composition Analysis
2D photographic antropometric body composition analysis with LeanScreen! Or use true 3D scanning with Structure Sensor for true 3D body composition analysis along with reported measurement details!
Remote Client Assessment
Use RemoteScreen to allow clients to remotely and securely upload photos and videos for your professional analysis!
Functional Movement Assessment
SquatScreen allows for fast, objective and functional movement assessments with auto-suggested corrective exercises for your clients!
Exercise Prescription
PostureScreen, LeanScreen, and SquatScreen all have direct integration with WebExercises to allow mobile exercise prescriptions directly from the applications!
PostureRay X-Ray Documentation.
The Best Professional Documentation
As a chiropractor, you must document your x-rays, now you can spend less time, and generate reports for both your records as well as patient education. PostureRay is the original and most robust x-ray report of findings software.  You can easily  and  completely customize your reports for your unique facility branding as well! Don't be fooled by imitation  providers on the market, our software is not only the original, but is also the most robust!
Leading Chiropractic Techniques
Our software was created with the leading technique leaders and is the only software endorssed and  recommended by the technique leaders of Chiropractic BioPhysics, Orthospinology, and CLEAR techniques.
Best Report of Findings
The PostureRay viewbox allows for side by side comparisions to near normal x-rays, with annotation and markup tools, along with easily calling up the patient's segemental values compared to normal.
Compatible with many x-ray formats
PostureRay can import DICOM, DMX videos, and photos of plain film x-rays in form of jpeg format.